Team Leadership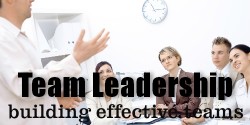 This section of TechnoFunc teaches more than 100 team management skills. Whether you prefer managing people or tasks, good team management means developing your skills in both, and this section will help you sharpen your team leadership skills. Our section on Team Leadership focuses on building the skills necessary to launch, develop and maintain effective and dynamic teams.
Whether the learner is a team leader or team member, or both, they will learn how to be effective team players and team leaders, solve problems and work towards common goals via highly interactive case studies, exercises and use of TechnoFunc resources. Generally we all start our careers being a member of a work team, and gradually may find ourselves in a team leader role, at some point in our career. Because of this, we have taken care that the skills, tools and knowledge discussed in the section applies to all individuals whether they are team leaders or team members. Here, we will start with the basics and then provide you with practical tools to build upon your team building skills. Each skill is explained in clear, simple language, giving you the information and training you need to be a great manager and an effective team leader and team player.
Most of the organizations today we work for have certainly changed from the previous traditional ways of working (such as hierarchical based organizations or functionally driven organizations) to matrix based organizations where the relevance of team based approaches have gained even more importance. The biggest challenge that leaders face while working with such structures is, how do they as team leaders ensure the empowerment of employees and start sharing their leadership responsibilities with the team members to maximize creativity and productivity.
Teams are certainly very relevant and important element in today's high performance organization but the important thing to remember as a leader is that we can't simply rely on putting highly effective individuals together to make a highly effective team. Effective teams often require the right mix of people, skills, resources and a focus on building good working relationships. The aim of this section is to empower you with time tested skills that will help you become both an effective team player as well as a leader.
This section will help you develop a new set of skills, and make use of these new tools and techniques at your workplace. These will help you with the key management activities of organizing, motivating, developing and communicating with your team. The target audience for the course is any individual who is a member, or leader, of any team, whether project, temporary, virtual or intact work team. These range from choosing the right people and deciding who does what, to communicating with, developing and motivating people. You will further learn some tools that you can effectively use to maximize the output of your teams. We will also share some 'Team Building' activities that will help you increase the amount of effective co-operation in the organization by motivating employees, building cohesiveness and drawing out the best in each person.
After studying this section, you should be able to:
Discuss the concept of team;
Identify various types of team;
Describe the process of team development; recognize the various stages of team development
Understand the team building process;
Analyze the effectiveness of team;
Learn different approaches to team development with illustrations
Learn how to delegate effectively
Learn how to motivate people
Learn how to develop team members
Understand the impact that formal goals, roles, and processes have on the effectiveness of teams.
Learn how to communicate effectively with people inside and outside your team; Utilize communication skills to improve interpersonal relationships within teams
Learn how to manage discipline effectively
Recognize the value of being an effective team player
Describe the relationship between effective interpersonal skills and keeping a team productive and functioning smoothly
Apply the skills and knowledge learned via skill practices at the workplace
Further join us at the "TechnoFunc Team Leadership Forum", a learning opportunity sponsored by us to discuss your questions, issues and challenges and seek help from your peers and TechnoFunc experts. This section provides an overview of the core concepts and the job aids and forum discussions provide an opportunity to put those concepts into practice.