GL_Concepts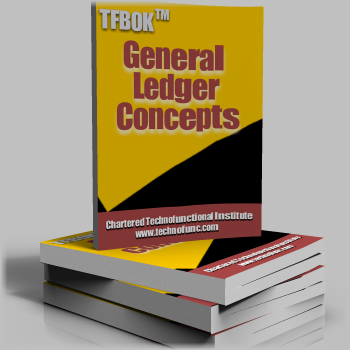 | | |
| --- | --- |
| TFBOK Process Area: | Finance |
| Chapter: | General Ledger |
| Topic: | General Ledger Concepts |
| File Format: | PDF Download |
| Pages: | 23 |
| Commercial Use: | This email address is being protected from spambots. You need JavaScript enabled to view it. |
| Price: | $ 4.95 |
In this tutorial we will learn the important concepts used in General Ledger and their role in I T Projects/E R P's. Understand the building blocks of a good and effective General Ledger system. This will provide us with the understanding of the key functional areas of any General Ledger System and will be beneficial to any professional working on a project that includes General Ledger.
The intended audience for this tutorial is anybody who wants to understand the GL Concepts irrespective of their IT background. This will be helpful to everyone who wants to understand the basics of any effective accounting systems. For Information Technology professionals this overview lesson relates the GL concepts to automated accounting systems and will help them understand the requirements more effectively, while working on financial technology projects.
In this part of this series we will focus on GL Concepts in detail to build strong conceptual foundation. During this tutorial we will be doing a deep dive into the following concepts to help you understand what they mean:
1. Accounting Periods and Calendars.
2. Adjustment Period.
3. Currency – Functional and Foreign.
4. Chart of Accounts.
5. Journals – Entry and Import.
6. Posting & Balances.
7. Review and Approval.
8. Accruals and Reversals.
9. Recurring Journals.
10. Allocations.
11. Intercompany.
12. Trial Balance.
This tutorial is intended to give those of you who are not familiar with the operation of a general ledger, basic knowledge about its operation and functionalities, as well as some explanation of commonly used accounting concepts. We have purposefully abstained from the basic double-entry book keeping concepts in this tutorial and will focus on key functionalities expected out of any automated general ledger system.
This tutorial focuses on these concepts from the perspective of an I T professional who is expected to work on any project involving design, build or interface to an automated GL system, rather than a student of accounting.
At the end of this chapter, combined with the functional knowledge acquired in Chapter 1 on General Ledger Fundamentals, you will acquire a basic understanding of GL Functionalities, GL Processes, Understanding of Steps in GL Processes and what activities they do supplement with some important concepts in GL and Accounting. We will close this chapter by making you understand what a trial balance is and in the next chapter we will have a deep dive on some key accounts that make the foundation of accounting as well as any General Ledger system. Any good technical or techno-functional consultant will be able to understand the major GL Setups of any automated accounting package after this foundation. Our later chapters will enable you to acquire mastery in these concepts as we explain each one of them in greater detail.
We hope that understanding these concepts in detail will help you truly understand the business requirements and equip you with the necessary functional knowledge to build effective and sustainable IT solutions.
Version 1.00