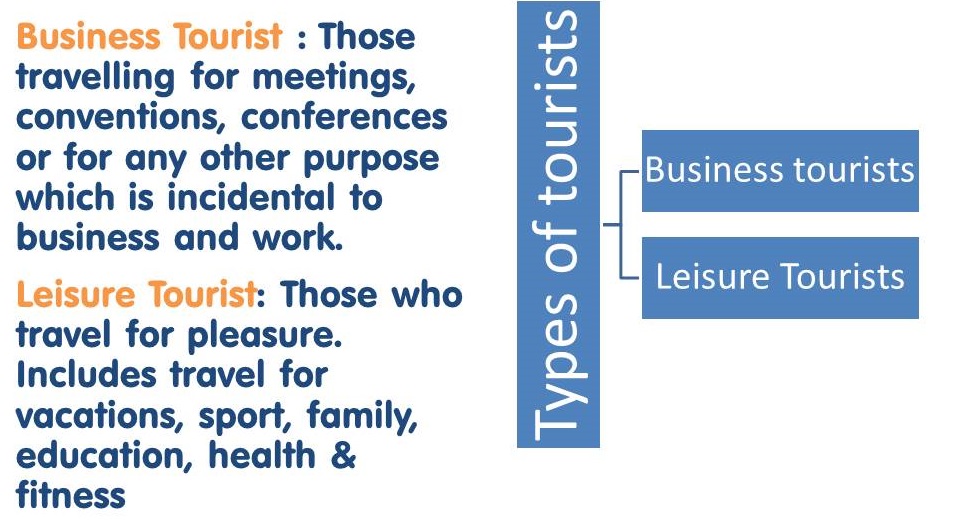 Types of Tourists
Wealthy people have always travelled to distant parts of the world, to see great buildings, works of art, learn new languages, experience new cultures and to taste different cuisines. There has been an up-trend in tourism over the last few decades and now national or international travel for short breaks is very common. Tourists have a wide range of budgets and tastes, and a wide variety of resorts and hotels have been developed to cater for them.
The terms tourism and travel are generally used interchangeably. However travel has a similar definition to tourism, but implies a more purposeful journey. So the travel could be done for leisure or to accomplish any specific purpose like I T professional travelling onsite to meet customer on his project. Hence "Tourists" can be classified broadly into two types.
Business Tourists :
These people travel to meet their work related needs like to attend business conventions, meetings, conferences or to meet any purpose which is incidental to the work requirements
Leisure Tourist :
These people travel for pleasure. Lately the leisure tourism has emerged strongly owing to changes in lifestyle, consumption pattern of people, growing leisure needs to de stress and rejuvenate. Leisure travel may be done for holidays, sports, education projects, school trips, family outings, weekend gateways etc.
Travel and Tourism has become a full grown industry over a period of time. Lets understand how it impacts all of us.
Related Links
Components of Tourism Industry