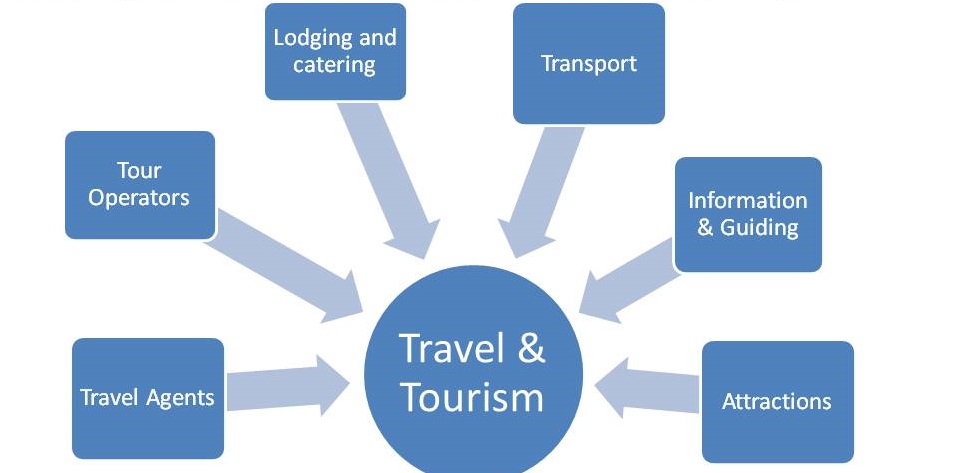 Components of Tourism Industry
The components of travel and tourism can be broadly divided into six key areas. We will discuss each of these areas in this slide and this will help you understand the players in this industry.
1. Travel Agent :
A travel agent provides information to the people on various travel destinations, advises them of available holiday packages to suit their tastes and budget and chart their travel plan. He would generally sell the travel associated products like currency exchange, car rentals, insurance etc.
2. Tour Operators :
Tour operators offer holiday packages which comprise of
1.Travel like by rail, road or air.
2. Accommodation like hotels, resorts, apartments, guesthouses
3. Travel services like airport pick and drop, sightseeing, excursions etc.
These tour operators may be the wholesale operators who operate tours only through retail travel agencies or they may be direct sell operators who market their product directly to the public.
3. Lodging and Catering :
This components consists of those who provide accommodation to the people in the form of hotels, resorts, apartments, camps, guest houses etc. The accommodation may be marketed individually or through the tour operators in the form of package. Direct marketing may require huge costs on advertisement and selling through a tour operator guarantees the occupancy rate throughout a holiday season. These service providers also take care of the catering needs of the people b providing them huge cafeterias, various fast food outlets in house or in the form of a Galleria.
4. Various Kinds of Transport :
Transport providers are those operating any major form of transport. They could be airlines, cruise lines, car rentals, and rail companies. A tourist's choice of transport would depend on the travel budget, destination, time, purpose of the tour, and convenience to the point of destination.
5, Information & Guiding :
The tourist information and guidance providers include a number of service providers such as those offering insurance, recreational, communication, and banking services; government agencies; tour guides; industry associations; packaging agents; ticketing agents; and holiday sellers.
6. Tourist Attractions :
The principle of attraction is to establish the need for the attraction in a particular location to invite more footfall. It may be a huge theme park, a museum, a gallery, a heritage building, an educational center etc. Many countries see the need to have one or more visitor attraction in the area to widen their appeal and attract huge potential tourist.
Related Links