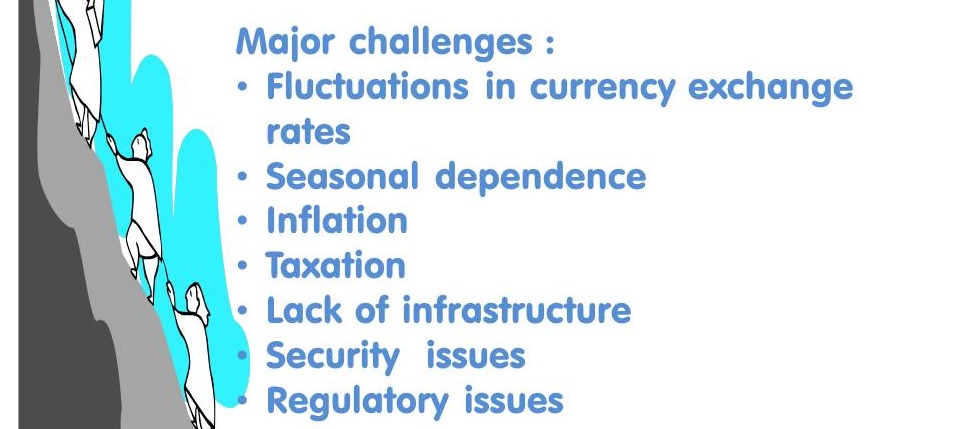 Challenges in the Tourism Industry
One of the major challenge that tourism industry faces is the fluctuations in currency exchange rates. The inability to know the value of a currency means that long-range tourism prices are especially hard to predict and the fallout from this monetary instability is already impacting multiple tourism support systems. Tourism industry is seasonal in nature and does not guarantee round the year flow of income which hampers the overall business setup.
Inflation is rising at an alarming and restaurants have had to raise prices or lower their service. Transportation companies have been hard hit. The airline industry is especially vulnerable. Airlines depend on both the food industry and the fuel industry. Already on the margin, airlines can do nothing more than cut services and raise prices. The result of such a situation keeps the leisure travellers stay away from expensive vacations which further hits the overall tourism sector.
Tourism industry is a heavily taxed sector in some countries. Various taxes are levied across the entire industry right from tour operators, transporters, airline industry to hotels and these include service tax, luxury tax, tax on transportation, tax on aviation fuel and various taxes on transportation. In addition, these tax rates tend to vary across different states in the country. All these taxes are finally passed on to the travellers in one or the other way thus hampering its growth.
Security has been a major problem as well for growth of tourism for a number of years. Improper law and order , terrorist attacks, political unrest adversely affect sentiments of foreign tourists.
Regulatory issues like visa procedures are seen as hindrance. Difficult visa processes keep the tourists away from some destinations. A number of projects in the tourism infrastructure segment and in the hotels industry are delayed due to non-attainment of licenses and approvals on time.
However in order to capitalize the benefits of tourism sector, government should aim at creating proper infrastructure, speedy clearances, and make effective policies to regulate the tourism sector and to gain the confidence of foreign tourists.
Related Links